BE A PART OF THE NEXT 'AAA' STUDIO
Join Bulkhead Interactive!
Located in the heart of the UK, Derby serves as the home for Bulkhead Interactive, a centre for creativity and innovation matched by its occupants here at Cardinal Square. Housing both of our Indie and AAA teams, our modern, highly accessible and ever evolving work space is a hospitable and welcoming environment for all those who join us on our journey.
With a body of over 100 talented team members spread across multiple teams and projects, involvement remains a key focal point in our growth and expansion as we go from strength to strength.
Adapting with an ever-evolving industry has been a key principal for our young company as we move forward, with each individual as important as the last, a focused and versatile ensemble determined to remain functional in a competitive environment.
Timeline
Where we started & Where we're going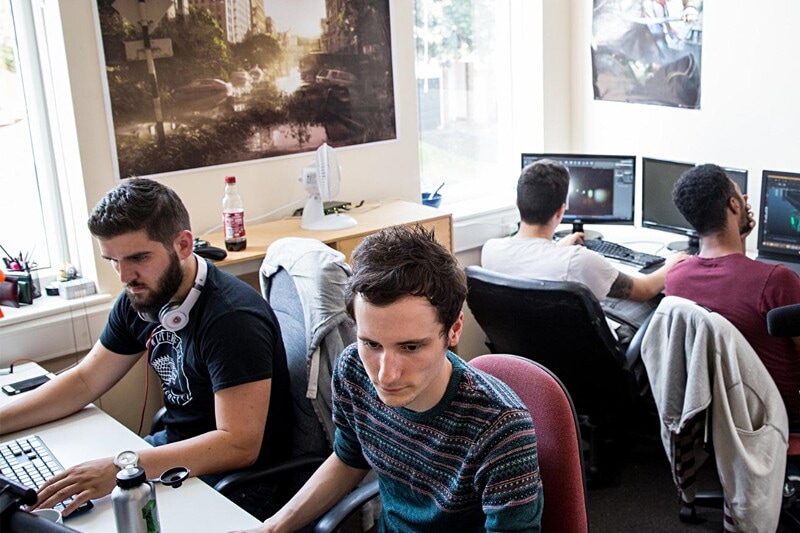 In The Beginning
Bulkhead Interactive was originally formed in 2015 when the 5 founders graduated from Derby University and days later crammed into a tiny office to begin work on first person puzzler "Pneuma: Breath of Life" for Xbox One through the ID@Xbox program. Pneuma was also ported to PlayStation 4 and Steam. After the modest financial success of Pneuma. The founders combined their two start-ups (Deco Digital & Bevel Studios) into one company, Bulkhead Interactive.

Bulkhead began to refine their skills developing another puzzler 'The Turing Test'. The Turing Test would go on to become one of the most popular puzzle games of the year - currently sitting at 80% on Metacritic.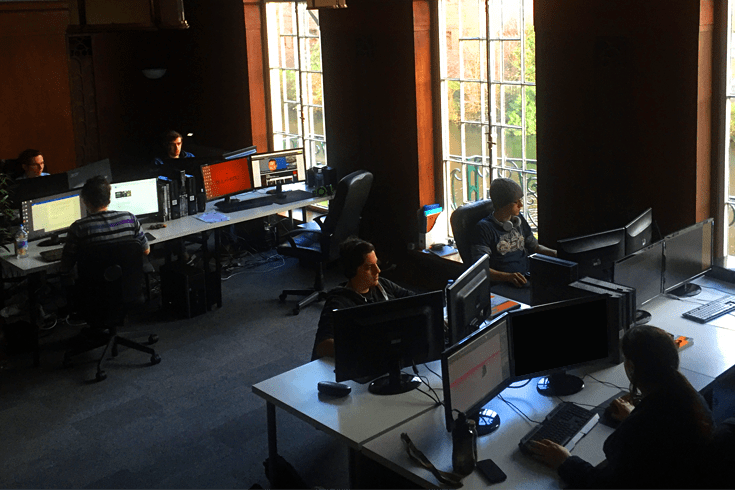 First Expansion
In 2016 the Bulkhead team expanded to 12 developers. This period of our journey was essential to where we are today we were dangerously ambitious, constantly striving to break into the games industry as a serious contender.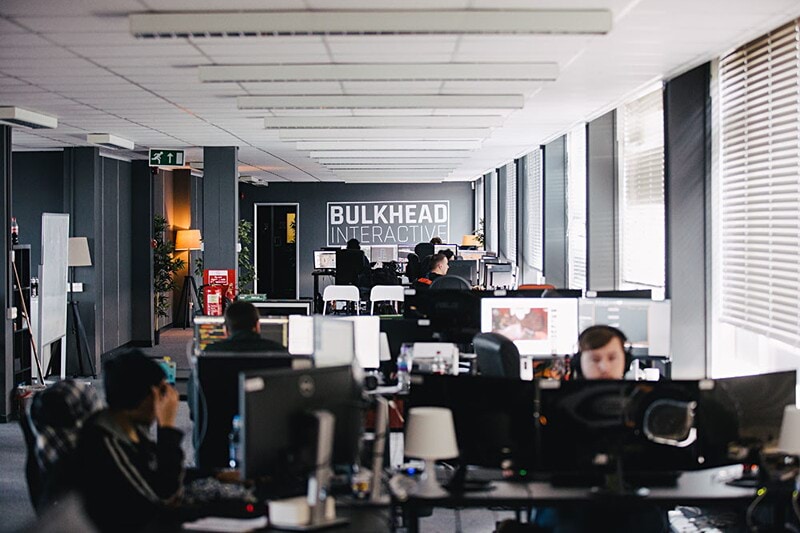 Time to Get Serious
On February 1st 2018, we released Battalion 1944 to Steam Early Access. In one of the biggest anticipated indie releases of the year our release day was one of the best and worst days in the companies history. The passion and support we saw coming from players was incredible, but our launch day was hit with server issues in our first ever multiplayer game launch. We knew that we had to build the infrastructure and the support network to make sure that future games wouldn't suffer the same way Battalion 1944 did. We began to grow our team with a focus on experience programmers who we knew could take us to the next level.

After the success of Battalion 1944, Square Enix invested in Bulkhead, coming on board as our partner owning a 20% stake in Bulkhead Interactive. Their involvement has given us stability and guidance through their vast experience, Square Enix give us the ability to have the freedom of indie development with the backing of one of the worlds biggest publishers.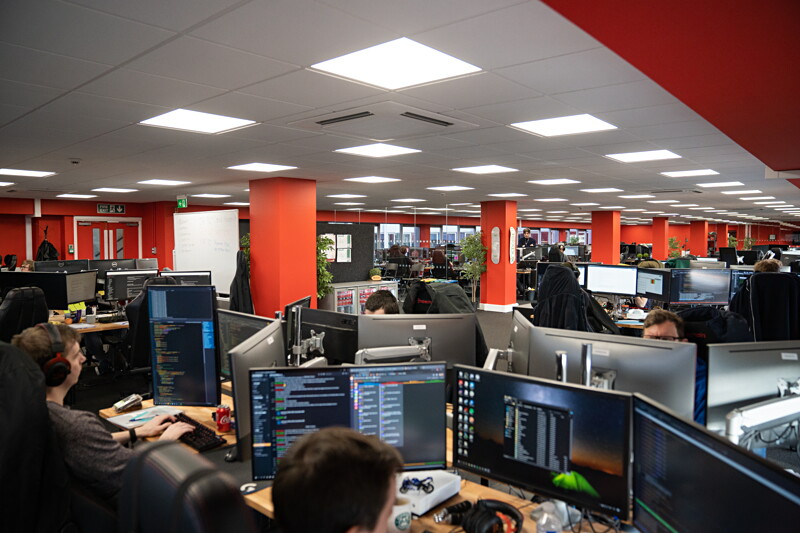 The Team Grows
As Bulkhead looks to the future our focus is on increasing the quality of our games. We feel the only way for us to do that is to bring in top quality talent, take care of them, and empower them to make truly great games.

We are actively working on multiple projects to be released across the next few years. Join us on our journey from a small indie studio to an 'AAA' studio and help us raise the quality bar to something truly special.
Workplace & Culture
Bulkhead Interactive is an innovative, supportive and rewarding place to call pastures new. A place in which collaboration, inclusion and a genuine casual atmosphere make for the fundamentals in which we pride ourselves. With a range of experience within our teams, from veterans to industry newcomers alike, Bulkhead Interactive looks to pave the way as we build on a fast paced, engaging environment. A multitude of social events with food and drink provided by us, out of hours meetups, a top of the range open plan office with brilliant amenities and health plan are amongst a list of growing benefits to help us embolden our in house culture as we, Bulkhead Interactive look forward into 2020 and beyond.
Perks & Benefits
Private Medical Insurance 💊

All employees and their families qualify for a great private medical package.

Private Dental Insurance 🦷

All employees receive dental cover as part of their medical insurance.

Flexible Working Hours ⌚

We offer you freedom to allow work to fit in with your schedule and preferences.

Profit Share Scheme 💰

You make the games so we share the profits! 10% of the project's profits are shared with those who are part of it!

Annual Holiday Increase 😎

For every year you work with us, you gain an extra day of holiday! In addition to all public holidays, we even close for St George's day allowing you to enjoy England in the Spring.

Free drinks 🥤

The fridges are constantly stocked high with refreshing drinks and we provide unlimited tea and coffee - help yourself!

High End Hardware and Three Monitors 🖥️

We want our team to be comfortable at work. Every developer has three monitors and a high end PC.

Games and Pizza Nights 🍕

Whether board games or video games, join us for free pizza, drinks and fun!

Discounted Gym Membership 🏋️‍♂️

As part of your medical insurance, you receive a 20% discount at Nuffield Health gyms. Luckily there is one next to the office! New year, new you!
Our Values
Ambition

Originating from an indie team means ambition pumps through the veins of the studio. Our mindset is geared towards becoming bigger and most importantly better.

Teamwork

Coming from an indie background our teams have always been forced to openly discuss and debate features and ideas for our games. Simply put; if you're joining our team, we want you to speak up!

Passion

None of our developers are ever made to feel like a cog in a machine. You'll be responsible for real change in our games and surrounded by talented and passionate people if you come and work with us!
What do our team think?
Working at Bulkhead has been a rewarding experience. I have always felt like an integral part of the team and the atmosphere has always felt friendly and welcoming. I'm excited to see what my future here holds.

Ashley Davenport

Gameplay Programmer

Since working at Bulkhead my technical abilities have improved a lot, I also feel more confident than ever.

Sam Freeman

Junior Character Artist

Making sure our team have everything they need to make amazing games is my focus. It is the only way we can reach our goals, our people are the most important aspect of our business.

Joe Brammer

CEO
About Bulkhead Interactive
If you have any questions, please contact our HR team by emailing HR@bulkheadinteractive.com